2017
The year's events also included the Sydney and Melbourne launch of 'Gerald Lewers Sculptor', a book by the late Professor Peter Pinson about my maternal grandfather Australian Sculptor Gerald Lewers, husband to artist Margo Lewers.
A film about Gerry's life and work is on Vimeo: https://vimeo.com/209047680
'The Motion Room', September 30 – November 19, 2017 was launched at the Casula Powerhouse Arts Centre completing Chapter 1 of the 'What We Know' Project. The exhibition showcased stories from the most diverse part of greater Sydney, formulated through printmedia about everyday life in Western Sydney with its many cultures, perspectives and histories. An article I wrote about the project to accompany the 'The Motion Room' Exhibition is available on: http://imprint.org.au/posts
Jane Stratton (Creative Director, Think + DO Tank Foundation) and I worked together during the workshops and subsequent exhibition at CPAC; our vision to involve more people over time and expand the project as a creative voice for the community in Western Sydney. The project was assisted by the Australian Government, through the Australia Council for the Arts its arts funding and advisory body. Jane Stratton developed the original concept as one of a series of ongoing projects that investigate, support and operate as a means to increase community control over everyday life in Green Valley, Liverpool and central Fairfield.
The work I created for the 'What We Know' Residency, titled 'Glow'.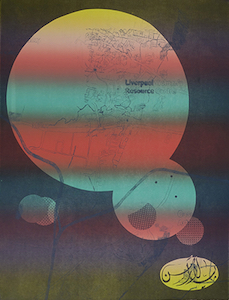 Artist: Pia Larsen
Title: Glow
Dimensions: 56 x 76cm
Images from the printmedia workshops held at the Liverpool Women's Resource Centre and Sydney College of the Arts, University of Sydney, 2016 – 17.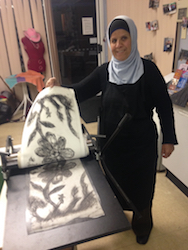 Naimeh Abu-Qalbain pulling a proof at the Liverpool Women's Resource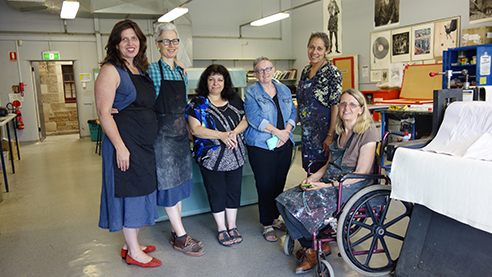 Jane Stratton, Pia Larsen, Michelle Munzone, Vicki Wacha, Zahra Mahde & Susan Stewart in the Printmedia Studio, Sydney College of the Arts, University of Sydney.
Published on 18/12/2017 11:08 pm.