2016
In November I co-curated, with Charles Cooper, and exhibited in 'Flag Wavering', at SLOT space, Alexandria, to coincide with the outcome of the US presidential election on November the 8th. The show examined the American flag as a visual and historic symbol. I exhibited three carton works from my US residency in 2015, along with new carton and bottle works in paper-pulp, gouache and watercolour applied with stencilling and brush.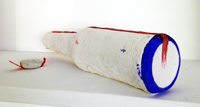 Jane Stratton (Creative Director, Think+DO Tank Foundation) launched the Project:
What We Know (The Motion Room) A Printmaking enquiry into the skills of local people in 2168
inspired by
Denis Diderot's 1766
Encyclopedia: A Description of the Arts and Trades.
'In 1766, Denis Diderot and his fellow "Encyclopedistes" made a beautiful account of contemporary handicrafts in France. The
Encyclopedia: A Description of the Arts and Trades
used printmaking to showcase the skills of artisans and manufacturers throughout the regions of France.
In 2016, 250 years after the Encyclopedia was published, THE MOTION ROOM artist in residence,
Pia Larsen
will create an
Encyclopedia of 2168
with local residents of the 2168 Postcode Area, recording their skills and celebrating their know-how for perpetuity.'
Supporters: The project was assisted by the Australian Government through the Australia Council for the Arts, its arts funding and advisory body.
The residency began with print workshops at the Liverpool Women's Resource Centre. The final printing to be undertaken at Sydney College of the Arts and the work exhibited at the Casula Powerhouse Arts Centre in 2017.
I was made a Research Affiliate to coordinate and complete the project at Sydney College of the Arts, University of Sydney.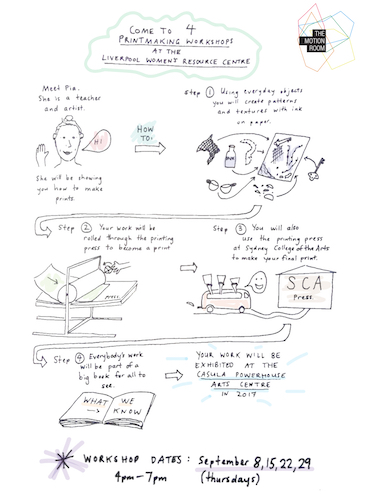 In May I was thrilled by the news that my image titled 'Welcome US' had been selected for the Print Council of Australia Print Commission Program by Roger Butler, Senior Curator, Australian Prints and Drawings, National Gallery of Australia and John Loane, Master Printer and artist, Viridian Press.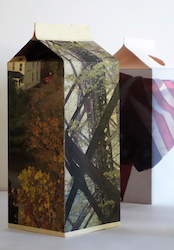 Title: Welcome - US'
Artist: Pia Larsen
Year: 2016
Medium: digital print (Archival Pigment Print on cotton rag)
Dimensions: image size: 30cm x 43.24cm
paper size: 53.24cm x 38cm
Printer: Nick Greenwich (Fine Art PRINT LAB Sydney)
The image depicts two of the sculptural carton works from my 2015
residency at the WSW in New York. The title, 'Welcome - US', conferred as
a slogan of hope against the reflex to exclude. The PCA promoted the
Commissioned works through National venues, Blue Mountains Cultural
Centre, Canopy Art Centre QLD, University of the Sunshine Coast Gallery
QLD, West Gallery Thebarton SA, Port Jackson Press Print Gallery VIC &
Megalo Print Studio + Gallery ACT.
Sales enquiries: p.larsen@optusnet.com.au & Print Council of Australia
Published on 11/12/2017 11:41 am.